How to Newbie Guide for Freelancing like Dr. Evil
Are you a newbie freelancer? Or thinking about tip-toeing into freelancing?
Don't worry, we've got you covered! Before we start, let's get the basics out the way. Freelancers are also commonly known as contractors, self-employed, or consultants. So what are the advantages? Let's see, you can:
Be your own Boss!
Flexible with time
Work on projects you actually want
Set your own rates
Work anywhere as long as you have internet connection. Have the urge to occupy Starbucks for a work day? Go right ahead!
Set Up Your Own Dr. Evil's Lair uhh.. Home Office
While you can work from anywhere technically, but you will still need your own Dr. Evil's lair, a place where you can demand…a 100 kajillion bijillion dollars! What we found is that some people really go Batman and turn their closets into fully functioning offices. How you build your lair is up to you. Perhaps hire your dog as your first employee, your person security guard!
Done for You Home Office Lair
Not all of us are Batman of course. If you're like some of us at Zoostores, we just want to get things done! Here are some of our suggestions:
Techni Mobili Eerst Wood Top Workstation
LifeSpan Fitness TR1200-DT Treadmill with Desktop
Things you will need in your home office:
A computer, Dah: This can be a desktop, laptop or tablet; Tigerdirect usually has the best deals, or keep an eye on Techbargains for great deals on all things electronics.
Internet access: For job searches and communicating with clients. Skype is a common chat client that most people use.
A phone: Whether online or a cell – phone contact is a must.
Motivation: You're ready to go!
Remember, it's not the size of your home office, but what you do with it that counts! Can you take phone calls without background noise? Can you work without people interrupting or passing through? Do you have everything you need within reach, or do you have to leave your workspace to find supplies? When it comes to efficiency, all these things matter and these details often establish themselves over time. A great home office will evolve along with your new skills and experiences.
Some freelancers provide in-house services and may undertake temporary office relocation to a place of business for the duration of their contract. As you are a new and somewhat flexible member of the team, make sure that any work stations provided meet your expectations and that you can do the task at hand with little interruption.
How to Win Jobs Like Han Solo on Freelance Bidding Sites
Many Padawans and Jedis go head to head on job bidding sites on a hour by hour basis, so it pays to know where to fight your battles. Different freelance job sites will have unique quirks about their process. If you're new, try a few out and pick one to master.
4 Super Tips for Landing Freelance Jobs:
Bid Fast! Think of that buzzard on Family Feud. It's mostly about speed. Keep your eye on the newest job openings as they go live by using RSS feeds. We suggest Google Reader! (Here's how to use it)
When bidding for a project, describe in great detail how you can solve the employer's problem. Also include your portfolio to show how you have solved this problem before.
You don't have to have the lowest bid to win – bid according to your skills and professionalism.
Always be honest, reliable and super over deliver! Don't just win the project, but win their hearts!
After working as a freelancer for awhile, you will eventually build up relationships with your clients and ask for referrals. When you get to the referral sphere, you won't have to depend on freelancing sites anymore. Say good-bye to bidding wars. You are now Boba Fett.
Source: Front cover of Bloodlines from the RHI SMART archive [1]
So Where Do You Take that Very First Step?
Craigslist: Yes! It's free and easy to understand, but don't dwell here for too long. Try other sites!
Freelancer, oDesk, Elance, Guru: are all free job bidding sites, each have their own quirks. oDesk seems to be the user-friendliest for freelancers. Put their RSS feeds into your Google Reader!
FreelanceSwitch: Offers premium forums, advice and job board for $7 per month specifically for freelancers. You must check it out, period.
I Have My First Freelance Project, Now What Do I Do?
Congratulations on securing your first freelance project! It is exciting. Give yourself a pat on the back for coming this far. You are awesome, and your new client is thrilled to work with you.
Ok. Cool. What now?
Now you need to prepare an agreement that clearly outlines your specific roles and tasks, and have each party sign it. Not only will this make you look organized, experienced and professional, but it will provide protection for you when things go south. And they will, is only a matter of time.
Looking for a digital contract solution?
EchoSign offers 10 free contracts per month, and an agreeable low-rate for higher volume signatures thereafter. Digital signatures are a great way to protect yourself, as a third party can vouch for you, and your contracts can be archived securely. Digital laws fluctuate between states, so be sure to educate yourself on the rights that you have as a freelancer prior to committing to digital contracts in place of traditional methods – Digital signatures FAQ.
Agreement in Place! Now what?
Download a time tracker if you are paid by the hour and want to track billable hours. Here are a few services to try: toggl, tick, and freshbooks (We personally like freshbooks).
Have a way to collaborate easily to manage multiple projects and keep things timely. Here are our recommendations: goplan, subernova, and activecollab (all pretty good actually).
Now get to work! Remember to always communicate in such a way that is the easiest for the client.
Now the Boring Stuff – Freelancing Expenses, Accountability & Taxes
Do I have to? Yep. No way around it.
Being a freelancer means you have to learn how to wear many hats at one time. It doesn't matter if you freelance full-time or part-time you must file all of your taxes and declare your freelance income. We are no tax experts and you should definitely consult someone who is an expert, the earlier the better.
It is common to file your on-the-side employment history as a sole proprietorship; which means you only have to claim and cover yourself at the end of the tax year. Alternatively, filings as an "S" Corporation can help freelancers who hire other staff avoid paying many additional taxes due to its fair use policy. The "S" Corporation also has a set business model and may be preferable in certain cases. Decide which business model is beneficial to your company and work style and file the appropriate paperwork immediately.
When working with clients, you may be asked to fill out and sign basic tax forms. These are typically a W9 and 1099. These forms acknowledge you as an independent worker and will be filled out prior to any work being carried out. Not everyone will request them, as they are not always necessary, (earnings under $600 from one employer per year) but you do have to record and account for all periods of employment undertaken, regardless of your clients' involvement. Similarly, if you employ a freelance worker, you may wish to use a 1099 form to record what has been paid so that you have a paper trail at the end of the year.
As you are now self-employed, you are also responsible for documenting your expenses and employment history for both yourself and anyone you hire. You will now pay 15.3% tax, which includes Medicaid previously covered by your employer.
Falling Asleep Yet?
If taxes seem complicated or overwhelming, there are software programs and services you can use to help you get through Uncle Sam. Shop around for a Certified Public Accountant (CPA). The CPA can help you stay away from trouble as more and more money exchange hands.
Top Tax Tips:
Consider hiring a CPA to be part of your team
Set aside 20-40% of your earnings to cover taxes and any unforeseen expenses
Keep every single receipt! Or not. If you are using Xero for accounting, you can take pictures of the receipt on your phone and have it automatically cataloged. Say good-bye to receipts. You can also do invoicing along with bookkeeping with Xero. Other good alternatives include: Free Agent, Wave Accounting (no free trial like other services, just free, yes really free), and Outright.
Contact government bodies, local representatives & financial advisers for information
Further recommended reading for when you have trouble sleeping:
The Freelance Union – Ahhh Who?
With more than 44 million freelancers in America alone, the Freelance Union was established to create a place where self-employed workers can come together, learn about their rights and seek legal advice from qualified representatives. The Freelance Union basic membership is free and offers premium information and advice.
The Freelance Union offers comprehensive information and advice on: 
Insurance and Benefits for contracted workers
Freelance Resources
Political Action & Activism
Events & Advocacy
Retirement Plans and Information
I Hate Freelancing and Want to Quit!
Undoubtedly there is going to come a day when you want to quit and wonder why on earth you ever gave up the security, safety and simplicity of an office job. But don't fret! This is perfectly normal and every freelancer goes through it. Remember Dory said? Or sang?
Just keep swimming. Just keep swimming. Just keep swimming, swimming, swimming. What do we do? We swim, swim.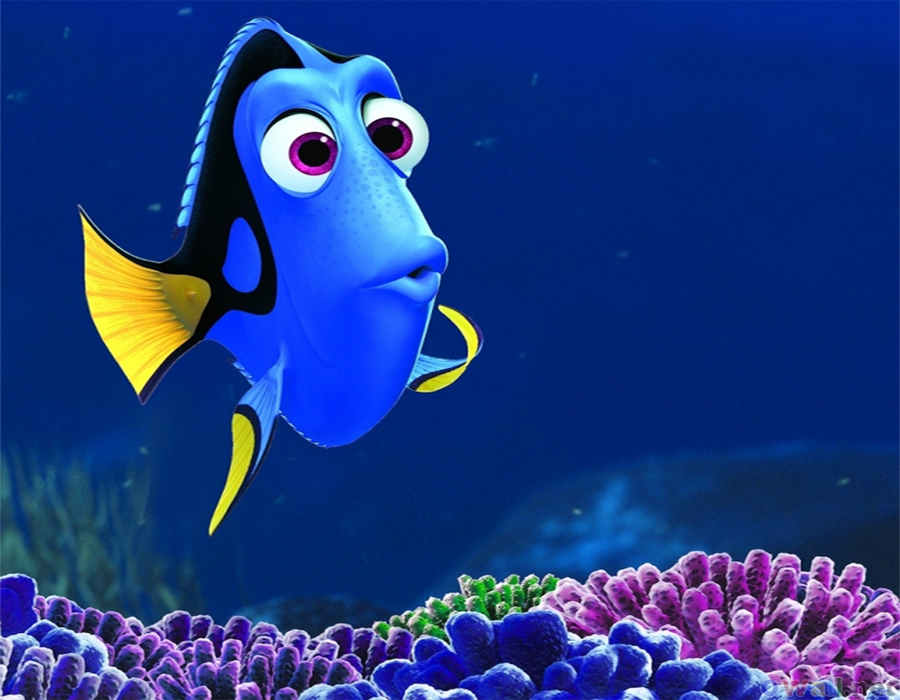 Source: wikia
What they won't tell you:
Many freelance businesses will fail: Can you do your work and run a business?
There are more freelancers now than ever: This means lots of competition!
You have to stay up to date: Without the latest trends and information you will fail!
Most negative situations can be avoided with communication, respect and following the basic principles of freelancing, but in the case of a dispute between you and a client, make sure you have the following:
Have a contract in place: This will help protect you under difficult circumstances.
Document your work: This will help back up your claims.
Seek legal help: Contact a union or legal representative for more information.
When new or different problems do arise, use existing experience and find creative ways to deal with things one at a time. It won't be long before you are working seamlessly with great people on fantastic projects and wondering how you ever worked in an office to begin with!  On the other hand, don't be scared to sever ties; you are your own boss after all! So if you want to keep your main 9-5 job and do freelancing afterward is okay too. Freelancing is all about flexibility.
Good Luck Working From Home Dr. Evil!
Source: DiscoverMagazine
Freelancing offers countless opportunities. Whatever reason you have for deciding to work from home and for yourself, rest assured you will be following in the steps of more than 44 million self-employed go-getters. Remember that working for yourself is liberating and that any challenges can be overcome with research, communication and listening to your instinct.
Recommended freelancer blogs: